Digital continuity of heterogeneous data using a digital twin for infrastructure's asset management
Continuité numérique de données hétérogènes à l'aide d'un jumeau numérique pour la gestion des actifs d'infrastructure ferroviaire.
Digital data continuity is a real issue for companies that are looking to make a successful digital transformation. At SNCF Reseau we have the same concerns which relate to factors which hinder progress towards digitization. In addition, the fact that in today's world, with the emergence of new technologies, we have a huge amount of data that comes from different sources and in different formats. We should better use these data to satisfy the requirements of end users and better manage our assets. In the context of a railway network, the design, construction, operation, and maintenance phases are often Ensuring a continuous flow of information between the four phases is often difficult to achieve. In this article, we propose a new methodology for managing digital data continuity using the new concept of a digital twin. This new approach will offer business-oriented services. Once set up, the asset manager will be equipped with a decision support tool, and it will also allow them to better plan interventions on construction sites. After working with different specialists in the rail system, with different end users, we will outline how a data model can be constructed and then easily implemented within the SNCF Computer System. Then this data model will consider the heterogeneity of the data sources to update the data bases.
La continuité des données numériques est un véritable enjeu pour les entreprises qui souhaitent réussir leur transformation numérique. Chez SNCF Réseau, nous avons les mêmes inquiétudes qui portent sur les freins à l'avancée vers la digitalisation. De plus, le fait que dans le monde d'aujourd'hui, avec l'émergence des nouvelles technologies, nous disposons d'une énorme quantité de données provenant de différentes sources et dans différents formats. Nous devrions mieux utiliser ces données pour satisfaire les exigences des utilisateurs finaux et mieux gérer nos actifs. Dans le cadre d'un réseau ferroviaire, les phases de conception, de construction, d'exploitation et de maintenance sont souvent difficiles à assurer. Assurer un flux continu d'informations entre les quatre phases est souvent difficile à réaliser. Dans cet article, nous proposons une nouvelle méthodologie de gestion de la continuité des données numériques en utilisant le nouveau concept de jumeau numérique. Cette nouvelle approche offrira des services axés sur les domaines ferroviaires diverses et variés. Une fois mis en place, l'asset manager sera doté d'un outil d'aide à la décision, et cela lui permettra également de mieux planifier les interventions sur les chantiers. Après avoir travaillé avec différents spécialistes du système ferroviaire, avec différents utilisateurs finaux, nous détaillerons comment un modèle de données peut être construit puis facilement implémenté au sein du Système Informatique SNCF. Ensuite, ce modèle de données prendra en compte l'hétérogénéité des sources de données pour mettre à jour les bases de données.
Fichier principal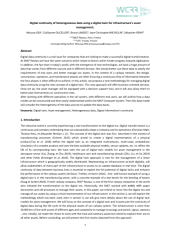 WCRR2022_Moussa ISSA.pdf (1.46 Mo)
Télécharger le fichier
Origin : Files produced by the author(s)