Extraction and separation of high added value biomolecules from the pulp of coffee cherries.
Extraction et séparation de biomolécules à haute valeur ajoutée à partir de pulpe de cerises de café.
Coffee pulp, a problematic food waste in terms of toxicity and volumes to be stored, contains molecules of high industrial value (polyphenols, methylxanthines). In this context, the purpose of this work was to propose and evaluate the feasibility of a new process combining several unit operations to 1) extract/separate/concentrate molecules of interest (hydroxycinnamic acids and caffeine) for subsequent industrial recovery and 2) remove toxic compounds from the pulp to facilitate its immediate recycling (animal feed, substrates, fertilizers). First, the pulp was characterized and then treated by alcoholic fermentation in order to extract the target compounds into the pulp extract. By combining the fermentation process with the addition of sulfite at 0.5 wt% to stabilize the extract, it was possible to increase the content of soluble chlorogenic acids by 4 in 24 hours at 28°C. After pressing of the fermented pulp, the volume of waste to dispose was reduced by 3 times and the amounts of caffeine in the solid residue were reduced by half. Then, our work was focused on the recovery process using membrane techniques. The treatment by cross-flow microfiltration using mineral tubular membranes (0.2 μm, 30 °C) allowed the clarification of the pulp extract without altering its solute composition. During the validation of the process on a semi-industrial scale, the permeate flux was greater than 100 L.h-1.m-2 and the volume reduction factor achieved was superior to 14. Ultrafiltration tests showed that it is possible to remove the pigments from the extract by filtering it through 50 kDa and then 5 kDa membranes in sequence. The nanofiltration step made it possible to separate the target compounds from the total dry matter. Depending on the operating conditions for the nanofiltration (membrane cut-off 0.2-1 kDa, transmembrane pressure 5-30 bar), it was possible to either obtain a concentrated extract or a purified extract. Finally, different couplings of unit operations were compared with the view to develop a production line of coffee pulp extract. The process that combines extraction by alcoholic fermentation with stabilisation by sulphite, clarification by tangential microfiltration and concentration by nanofiltration is the best option in terms of the quality of the final extract. However, for an industrial application, it is still important to validate the global process and to evaluate its economic feasibility.
La pulpe de café, déchet problématique en termes de toxicité et de volumes à gérer, contient des molécules d'intérêt industriel reconnu (polyphénols, méthylxanthines). Dans ce contexte, l'objectif du travail était de proposer et d'évaluer la faisabilité d'un nouveau procédé combinant plusieurs opérations unitaires pour 1) extraire/séparer/concentrer les molécules d'intérêt (acides hydroxycinnamiques et caféine) en vue de leur valorisation industrielle ultérieure et 2) éliminer les composés toxiques de la pulpe pour faciliter son recyclage immédiat (alimentation animale, substrats, engrais). Dans un premier temps, la pulpe a été caractérisée puis traitée par fermentation alcoolique afin d'extraire les composés d'intérêt dans la phase soluble. En combinant la fermentation à une stabilisation par sulfite à 0,5 % m/m, il a été possible de multiplier par 4 la teneur en acides chlorogéniques solubles en 24 h à 28 °C. Après pressurage de la pulpe fermentée, le volume de déchets produits est divisé par 3 et le résidu solide obtenu est 2 fois moins chargé en caféine. Le travail s'est ensuite focalisé sur le procédé de fractionnement de l'extrait par techniques membranaires. Son traitement par microfiltration tangentielle sur membranes tubulaires minérales (0,2 μm, 30 °C) a permis de clarifier l'extrait de la pulpe sans altérer sa composition en solutés. Lors de la validation du procédé à l'échelle semi-industrielle, des densités de flux supérieures à 100 L.h-1.m-2 ont été obtenues à un facteur de réduction volumique de 14. Les tests d'ultrafiltration ont montré qu'il était possible d'éliminer les composés colorés de l'extrait en le traitant sur des membranes de 50 puis 5 kDa. La nanofiltration a rendu possible la séparation des composés d'intérêt par rapport à la matière sèche totale. Selon les conditions opératoires utilisées (seuil de coupure de la membrane 0,2-1 kDa, pression transmembranaire 5-30 bar), la nanofiltration a permis d'obtenir un extrait soit concentré soit purifié. Enfin, divers couplages d'opérations unitaires ont été comparés pour constituer une ligne de production d'extrait de pulpe de café. Le procédé qui associe l'extraction par fermentation alcoolique avec stabilisation par sulfite, une clarification par microfiltration tangentielle et une concentration par nanofiltration est la meilleure voie en termes de qualité de l'extrait final. En vue d'une application industrielle, la validation du procédé complet sur site et son évaluation économique reste encore toutefois indispensable.
Fichier principal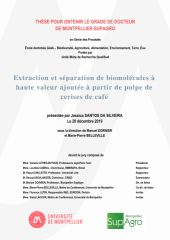 19-0058_SantosDaSilveira.pdf (5.22 Mo)
Télécharger le fichier
Origin : Version validated by the jury (STAR)